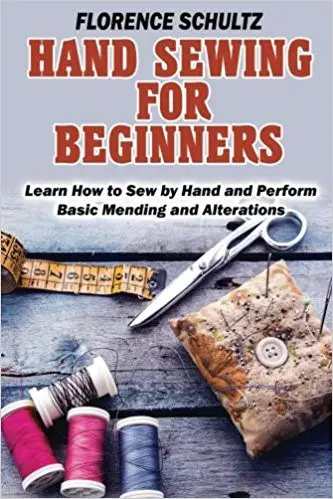 Hand Sewing for Beginners: Learn How to Sew by Hand and Perform Basic Mending and Alterations Book Review.
Hand sewing is something that I've always enjoyed doing, and a personal favorite past time of mine. But, it's hard to get into the spirit of doing it, and sometimes, even just getting started can be quite hard. However, with the book Hand Sewing for Beginners: Learn How to Sew by Hand and Perform Basic Mending and Alterations by Florence Shultz, you'll learn how to do all of this in a snap, and by the end of it, you can become a hand-sewing master. It contains a lot of handy tips on how to begin, along with some amazing step-by-step instructions on how to sew various types of stitches, and it even includes how to sew various things back together if you're looking to learn how to fix a ripped stitch or something.
It's super simple to understand. It feels like you're actually there with the author, and they tell you through every step of the way. The way it's presented also makes it way easier to face, which is often a major issue with many of these sewing books, but isn't a problem here.
The language that's used here isn't some complicated jargon that makes you feel like you're stupid, but instead Florence tells you in simple terms, and it's definitely the best book for anyone who is learning to sew, whether you've tried and failed before, or you've never tried at all.
So what's in it?
So why does this book matter? What makes it stand out? Well, it includes the following to help you get started.
• A helpful introduction to sewing
• The equipment you need, along with thread and fabric
• Basic stitches to help you get started
• More advanced sewing stitches
• Ways to fix simple items, including rips, mending pants, and even hemming dresses
The content is written so anyone can understand, and you'll be able to use this book to sew articles of clothing like never before.
Why is this Book special?
Sewing is a basic skill that everyone does need. After all, we go through life and may rip, tear, or obtain clothing that's too small or too big.
Most of us would love to learn how to sew effectively, and while other books tend to give you complicated steps, this one tells you in basic ways.
Sewing is a super important skill. After all, you end up spending a lot of money replacing clothing in life. Sometimes you need to, other times you don't. this book will teach you a valuable skill, so that you're able to actually do something with it, whether it be mend clothing, or create new clothing.
It's also a lot of fun to do as well, and some tend to find it relaxing in comparison to other activities, and it's used as a means to naturally de-stress a person.
Tells you what you Need
One thing this book does well, is there is a whole chapter on just what you need. It's super nice to have this there, since all too often, other books will go into detail on some aspects of it, but not on other aspects. However, this one will tell you everything you should have before you begin your sewing adventure.
Some of the points mentioned include:
• The general kit and what it needs
• Different hand-sewing needles
• Sewing pins
• Shears
• Thread
• Thimbles
These are all super important items, and most other books don't even touch on half of this. they might go into the general kit, but never about the needles.
You'll even get told of the different types of needles you need, including:
• General threading needles
• Quilting needs
• Sharps needles
• Embroidery needles
• Ballpoint needles
Each of these have a purpose in sewing, and they're super important to begin with. Shears are another part of this that are typically disregarded when it comes to hand sewing, but in this book, you'll be able to learn about the following:
• Pinking shears
• General shears
• Sewing shears
• Bent handled shears
These are often not discussed in other books, and shears are actually the most important part.
Then there is the thread. Thread is often not discussed in detail, but think about it, it's what you're using to sew everything. In this book, it goes over both the:
• Thread weight
• Thread fiber
This is super important, because as you'll find out, not all thread is equal. Silk thread is for certain fabrics, whereas cotton thread is used for other fabrics. By the end of this book, you'll know all that you need to know to suit yourself up, and to make sure that you have the knowledge necessary.
That's what's so great about this. Florence has been sewing for a long time, which means that she knows a lot about what you need to better understand sewing. It's important to know this, and often, people don't realize that if they don't, it won't make sense. Sewing does require the right materials, and if you have them, that's a great way to get started.
Super Easy Steps to Follow!
Then there are the steps to follow in order to start sewing. Lots of times, people just say "oh here's a stitch." But don't tell you the steps needed to help you make these. That's where Florence shines. She tells you about some of the different things to do before you begin, including:
• Cutting the fabric
• The basting stitch
These are two very important steps. In her book, she also uses embroidery floss to help you see the pictures clearly, which is what's really nice about this. the actual images in this are super clear, easy to understand, and in general look like a professional did them.
But, they also come in very simple steps too, so it's not overwhelming for the basic sewer. That's what's so nice about it, especially since a lot of books seem to not want to go into detail on how to make it easy. But, Florence tells you, and that's what makes this book stand out.
There are many different stitches that do get explained in this book as well, including:
• The running stitch
• Backstitch
• Slip stitch
• Blanket stitch
• Whip stitch
And many more. These ones are also explained in detail on when you use them too, which in turn makes it easier for you to understand as well.
It also does include hem stitches, which are important, and some of them are:
• The blind hem stitch
• Basic hem stitch
• Catch stitch
Each of these stitches in this chapter include easy to understand pictures, which is what makes it so simple for anyone to learn. You can even learn this all in a day really, and that sets you on the right track to learning how to stitch up your favorite items.
Even tells you how to fix things!
Do you have a pair of pants that have a rip? Or maybe a dress is too big since you've lost eight? This can be quite a problem, especially since many people do tend to have these issues. But, this book actually tells you some basic mending techniques as well.
They're all laid out with great pictures attached to them too. They're super simple to follow and understand, that even the most basic of sewers can use them.
Two of the most important hemming techniques that are included are:
• How to hem a pair of pants
• How to hem a dress
These are two very important things to learn, and since you were given hemming stitches as well, it will tell you exactly where to pin, and also how to sew it. Once you try it, you'll realize just how simple it is, and how much money you can save as well.
With one of these, any person who's never sewed a day in their life can take a pair of pants way too long for them, hem them to the right size, and by the end of the day, they'll be happy and have that all figured out. It's that simple.
This is what's so great about it, and you'll realize once you lean them, they're definitely worth your while.
Seams and Extras!
It also includes how you should sew a strong seam. This is something that will help with keeping the fabric tight and together. It's often a part not really included in many other books, but this one will tell you what the exact seam allowance should be, and how to create a seam that is strong, and how you can make any seam that you're trying to sew the best that it can be.
It also includes how to sew other, more complicated actions that are often not touched upon in sewing books. These tend to be a bit on the advanced side, but Florence makes it easy for anyone to understand.
Some of the different extra sewing endeavors you can take on include:
• How to add lining to a handbag
• How to sew on a button
• How you create fabric gathers
It also touches on pleats, which are normally not covered, even at a basic level. But, since it's included at the end, it's a nice little addition in case if you feel like you want to learn more about sewing. Some of the pleats that are included are:
• Box pleat
• Knife pleat
• Inverted pleat
Pleats are something worth mentioning, and this book does it well. with Hand Sewing for Beginners: Learn How to Sew by Hand and Perform Basic Mending and Alterations you'll be able to understand exactly what you need to do in order to help you become the sewing master that you've always wanted to be.
These are all super helpful, and they do give you more to work with too. With this, you can even take on bigger, better projects, and if you end up liking it, you can even start to sew up full outfits if that's what you want to try. It's obviously up to you, but it definitely won't hurt.
Includes how to Fix Seams
Seams are something not normally tackled in your average how-to sew book, but this book takes the general concern about seams, and takes it further. With this book, you'll be able to not just learn about seams, but also how to fix them.
With seams, you often need to look at the area where the stitching is loose, and from there, take off the loose ends. The book shows you how to hand stitch new seams, and also how to stitch across it so that it's fixed. It's super easy to follow, and definitely nice.
Not only does it help you fix a ripped seam, but it also helps with the following:
• Reinforcing seams so they don't come apart
• Repairing fabric rips
These are two super important skills when it comes to seams, and it definitely helps anyone who is looking to better understand how to make seams better.
Great Testimonials!
Here are some reviews from people who bought the book, and some of the great feedback that proves this book is worth every penny:
• C Brant says: I can't tell you how many times I tried sewing up my own clothes and failing. It isn't a problem of getting the needle to get the thread in there. The problem is that it always came lose. That is until I read this book. Now, hand stitching has become so easy to follow! I really enjoy working with my hands. I just lacked the understanding of how to get the needle to work for me. I can now say that the stitching work I do doesn't come lose and I don't have to pay big bucks to other people to do this work anymore!
• Deesl says: This is a great little book with helpful tips. Great reference. The size is perfect as you can carry it with you anywhere. Detailed photos. I definitely would recommend.
• Donovan says: I love sewing by hand. But, I never got a chance to learn it and I thought it will be very difficult to learn it. But, this book is a great help to learn basics of hand sewing. Hand sewing can be used to mend and alter garments, add embellishments to garments, accessories, and home decor items, and to create cute and thoughtful gifts. This book covers details about sewing equipment, thread and fabric. Learn sewing by hand and it is really a valuable skill.
These are just a few of the many reviews that show this book is a great one for anyone learning to sew.
Gets You Pumped!
Sewing is a fun activity, although often people do believe that it is stressful. However, with Hand Sewing for Beginners: Learn How to Sew by Hand and Perform Basic Mending and Alterations, everything is nicely laid out, and you'll be able to become a master sewer in no time. You also get some amazing tips to help you better understand more complicated stitches and other actions you can do with a needle and thread. It's super nice, and with the helpful pictures that you do get from this, you'll be able to learn it quickly, and it's super fun as well.
Sewing is something that's been around for ages, but it's often considered a dying skill because many people don't use it anymore. But, you don't have to let it die. With this book, you'll be able t use this invaluable skill to not only help others, but also yourself too.
Also if you want to learn the popular art of Crochet click here for our review.

Learn to Crochet in Just one Day.