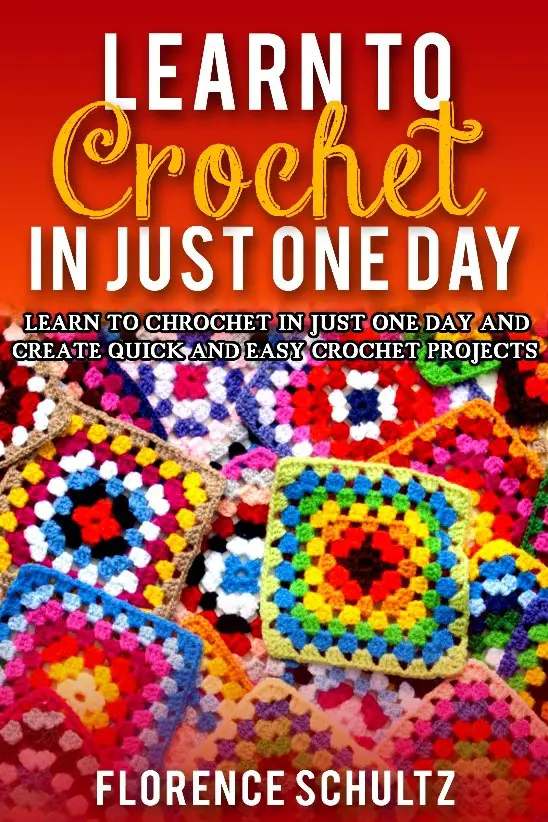 Learn to Crochet in Just One Day Book Review
Hello dear readers! Today I want to share with you a wonderful book I found on Amazon. Learn to Crochet in Just One Day; Learn to Crochet in Just one Day and Create Quick and Easy Crochet Projects, by Florence Schultz is the perfect book if you are looking to learn how to crochet quickly and easily. With the easy to understand instructions and nice clear images, it is like having a good friend sitting with you teaching you the art of crochet. The tone of the book and the easy to understand language Florence uses are just a few of the things that I feel make this book one of the best beginner crochet books around. If you have never picked up a hook or yarn, by the time you finish the book you will be crocheting fun projects and on your way to a lifelong love of crochet.
Just the Facts
Comes with the bonus book Learn How to Crochet 4 Granny Square Patterns

5 chapters full of tutorials and information about crochet

Glossary of crochet terms

Reference tables you can use every time you crochet

Links to informative and handy sites to further explore your craft
 What Makes This Book so Special?
There's lots of books available that you can use to learn how to crochet. So, what makes Learn How to Crochet in Just One Day so special? First Florence gives you a brief history lesson on the origins of crochet.
Annie Potter, an American crochet expert wrote "The modern art of true crochet as we know it today was developed during the 16th century."
There are many theories about the origins of crochet from South American tribes to the art being brought from China.
Examples of crochet in Europe have been found as far back as the 1500's when it was known as 'nun's work' or 'nun's lace'. The crochet we know today was very popular in the 1800's in Europe. The beautiful and intricate art of Irish crochet saved many families from starvation during the potato famine in the mid-19th Century.
No matter where crochet came from it has become one of the most popular crafts today with men and women from all ages, incomes, and social strata enjoying it.
Yarn and Hooks
Next Florence teaches you about yarn fibers, yarn weight, how to read a yarn label so you can choose the best yarn for your project, and all about crochet hooks. She provides charts and tables which make it easy to understand all the diverse types of crochet hooks and designations used today. Did you know there are two main ways to hold your hook? Pencil and knife holds produce the exact same stitches. Which one you use depends on what is most comfortable to you.
Pencil Hold
Knife Hold
Basic Stitches and Techniques
Some of the things that stand out to me are the easy to understand step by step instructions and the liberal use of large clear images. For example, one of the first lessons is how to crochet the single stitch.
 Single Crochet
Single crochet stitches create a dense fabric. If you are beginning your first row with single crochet insert the hook into the second chain stitch from the hook. (The first chain counts as the first single crochet stitch.) Yarn over and pull the yarn through the chain stitch. Yarn over and pull through the two loops on the hook. This is a single crochet stitch. When you begin a new row with single crochet chain one. This counts as the first stitch. Insert the hook into the next stitch, yarn over and pull through, yarn over and pull through both loops on the hook.
Florence explains each step so that you can understand it and execute the lesson easily. She does this with each stitch. The basic stitches included in Learn to Crochet in Just One Day are as follows:
Chain stitch

Single crochet

Double crochet

Half double crochet

Treble crochet

Slip stitches

Decreases

Increases

Pattern repeats
Once you have the basics down, it's time to move on to basic techniques. You know how sometimes one side of your project grows and shrinks along the edges? Florence shows you how to avoid that and get perfect edges every time. She gives several solutions to create clean crisp edges.
Crochet in the round is an important technique to learn, and Florence takes you step by step to master this skill.  She even teaches you how to avoid the ugly seam you get when crocheting in the round. This is an easy technique and makes your projects look more professional.
It's All About Color!
One of the things I love about crochet is color. There are so many colors and textures to choose from when choosing yarn for your projects. I find myself standing in front of the display overwhelmed sometimes, and when I'm online I must look at all the colors and textures before I make my selections. In Learn How to Crochet in Just One Day, Florence teaches you how to change colors seamlessly for a clean look. Changing colors may seem dauting, but with Florence's down to earth instructions, you'll be creating colorful projects in no time.
Changing colors in a row is also very easy. You use the same method of pulling the new color through the last two loops of the last stitch of the old color. Catch the old color in the next stitch and then you can fasten the old color off leaving a long tail to weave in later.
Pull the new color through the last 2 loops of the last stitch of the old color.
Completed color change mid-row
Florence also teaches you how to create a clean edge for decorative borders and how to weave in tails securely. I was amazed at how much information there is in just the first few chapters. And that is just to get started!
Beyond the Basics
So now that you've mastered the basics it is time to move onto a bit more advanced stitches and techniques. Don't worry, we're not talking about anything hard. These are real stitches and techniques you can use on your projects. They include:
Shell stitch

Cluster stitch

Puff or bobble stitch

Long double crochet or spike stitch

Reverse single crochet or crab stitch

Back and front loop stitches

Back and front post stitches
Each one of these stitches and techniques is taught in Florence's signature style. She takes you step by step with easy to understand instructions and big clear images. It's like sitting at you kitchen table getting a personal lesson.
Here's an example of one of the stitches in this section:
Crab or Reverse Single Crochet Stitch
The crab or reverse single crochet stitch is a decorative finishing stitch. It gives an edge a very interesting and attractive texture. Instead of working from right to left, you will be working from left to right (for right handed crocheters). Insert the hook into the stitch to the right, yarn over and pull through both loops on the hook. Continue to work left to right and join in the chain one of the beginning of the row or round.
Free Patterns!
Not only does Florence teach crochet, she also designs patterns. In Learn to Crochet in Just Once Day she shares nine of her unique beginner patterns with you. These are more than just cup cozies and hot pads. She includes patterns for dishcloths, hats, and much more. Each pattern is written for beginners and helps you practice your new found skills. Florence has taken special care to make sure each pattern is complete and at the beginner skill level. That means if you use the tutorials in this book, you will be whipping up beautiful crochet projects in no time.
How exciting would it be to make your family and friends hand crafted gifts? And you can customize the pattern with your choice of yarns to make them a personal expression of your creativity. You can give them away for birthday, baby and bridal shower gifts, Christmas gifts, and house warming gifts. Each project will have your personal touch and sure to become a beloved heirloom.
Check out this newsboy hat! Yes, you can crochet this as a beginner! Even if you've never crocheted a thing in your life, you can create this lovely hat with the skills you'll learn in Learn to Crochet in Just One Day. I really love how the patterns are easy to work and easy to read.
You even get a tutorial on Granny Squares. Florence gives a pattern for a pot holder using a traditional and solid Granny Square. Once you have the Granny pattern down, you can use your skills to make all sorts of cute and beautiful projects.
Imagine surprising your friends with this lovely potholder. You can tailor the colors to their kitchen for a truly thoughtful and personal gift.
Rounding it Out
I'm sure you can tell I really like Learn to Crochet in Just One Day by Florence Schultz. Not only does she teach about crochet, but she also provides free patterns. To round the book out, Florence also provides you with a Glossary of common crochet terms and handy tables for your reference.
Yarn weight chart

Hook sizes

American and UK crochet terms

Afghan size chart

Hat measurement guide
If you are looking for a comprehensive book to learn how to crochet, be sure to get your copy of Learn to Crochet in Just One Day by Florence Schultz. Not only will you learn how to crochet in just one day, but you'll also receive a free copy of Learn How to Crochet 4 Granny Square Patterns.
Did you get your copy? Let me know what you think in the comments. I'd love to hear your opinion!
Click Here to Get this Amazing Book. And Free on Kindle Unlimited: 
And if you are interested check out our review on her book on Hand Sewing and maybe you can learn a few things that can save you some money.

Hand Sewing by Florence Schultz