If you love crochet you won't want to miss the up coming Crochet Guild of America's (CGOA) upcoming Chain Link Conference in Portland, OR. The conference runs from July 25th to July 29th. Registration opens in mid-April. You can read more about the conference and up coming news about it at the CGOA website.

2017 Chain Link Conference
Last year's conference was an exciting time of classes, demonstrations, networking, and of course, shopping. Attendees had their choice of many different classes during the four day event. These included Mosaic Crochet, Needle Felting, Japanese Crochet Techniques, Understanding Symbol Crochet, Modern Irish Crochet, and many other classes.
A Very Brief History of the CGOA
The CGOA had its beginnings over 20 years ago. It was founded by volunteers who saw the need for fellowship and support for crochet artists. Since its humble beginnings, CGOA has grown to be the leading group for crochet artists with members from all over the world. They all share one thing in common, their love of crochet.
In October 1991 Gwen Blakley Kinsler, Founder, wrote a letter to the editor of Threads magazine. Ms. Kinsler was living at that time in Mexico City and wanted to reach out to others who enjoyed crochet. She got an overwhelming response from six countries and 29 states. Since this was the age before the internet, she used her Apple computer to cut and paste a physical newsletter which was sent out for $1 to cover the cost of postage.
Things began to take off after she attended America Crafts and Creative Industries (ACCI) trade show held in July 1993 in Chicago. She made several industry contacts and received sponsorship from Coats and Clark, and the DMC Corporation. The future guild was also highlighted in the very first Vogue Knitting Special Crochet issue.
The first conference was held at DePaul University in August of 1994. The conference was a success with 90 crochet enthusiasts in attendance. From this first conference came the organization we know today as the Crochet Guild of America. Today the CGOA has grown to be a worldwide organization promoting crochet and bringing to together lovers of crochet.
Not only is the CGOA a place for enthusiasts to meet and support their craft, but it is also a leader in community involvement and education. At the 10th anniversary conference of its founding the guild created "I Can Crochet Day" along with the Girl Scouts. Each child who participated received a patch they could proudly add to their sash.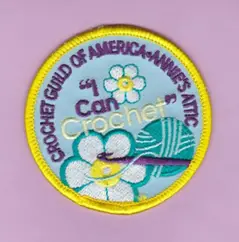 CGOA Girl Scout Patch
At the 15 year anniversary conference the CGOA held a crochet bra contest in order to raise money and awareness for breast cancer. To celebrate the 20th anniversary of the founding of the CGOA, The Hook Collector Group introduced the first commemorative hook. This beautiful hook was a tulipwood turn-of-the-century custom design and was laser engraved with CGOA 2001. Each year a new commemorative hook is introduced. You can check out each year's hooks on Nancy Nehring's blog Lace Buttons.
During the years the CGOA has sponsored several community events and fundraisers. The volunteers who make this such a special organization are everyday people who love crochet and want to promote fellowship and preserve the art of crochet. You can read more about the history of the CGOA in the interesting publication, A Narrative History of CGOA By Gwen Blakley Kinsler, Founder, found on their website.
A Focus on Education
One of the focuses of the CGOA is education. There are lots of resources available on their website from beginning lessons to a Masters program. Several courses are offered at the conferences by industry experts and leading crochet teachers.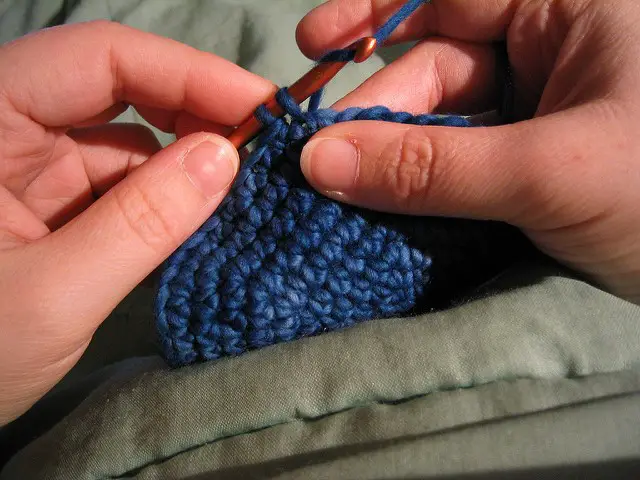 On the guild's website there is an entire section devoted to teaching children how to crochet. The Craft Yarn Council has worked in conjunction with the guild to provide the tools and resources teachers need to reach children and teach them how to crochet. The resources include tips and guidelines on teaching children. These include staying focused, being consistent, letting each child learn at their own pace, how to develop lesson plans, and examples of class activities.
How to handle small and large classes is also included as well as tips and tricks a teacher can use to keep the class under control and the students engaged. Ideas include breaking larger classes into small groups and having everyone work on one project instead of several different ones. They also suggest using bright colors and fun projects. A sample lesson plan is also provided for teachers.
CGOA Master of Advanced Crochet Stitches and Techniques
The CGOA Master of Advanced Crochet Stitches and Techniques is for experienced crocheters to help them expand their knowledge and challenge their mastery of crochet. Open to both members and non-members, the Masters program consists of a program workbook which guides you through the creation of 48 swatches. The course is available in a downloadable file, or a physical notebook which is mailed to you. Sign up for the course at this link.
After you crochet the swatches you are instructed to tag them and include them in a portfolio which you mail to the CGOA for approval. Trained reviewers review your work and offer a written review when they return your portfolio. You may have to rework your swatches if there are only minor mistakes, and if there are major mistakes you will be required to try the program again at a later date. Once the reviewers approve your portfolio you will receive the Master's certificate and pin. The Ravelry Group for the CGOA Master's Program is available to ask questions, or you can contact the CGOA directly.
What is a Master? According to the CGOA website a Master is as follows:
"For the purposes of the CGOA program, the standards for a Master are as follows:
Reads, follows and executes instructions as they are presented. Although the crocheter may prefer to use different methods, for this program the candidate is to follow the written instructions as given.
Creates even, neat stitches, and maintains a standard gauge throughout a swatch.
Chooses an appropriate hook size for the yarn being used.
Weaves in all yarn ends securely and invisibly.
Counts work to be sure each swatch has the correct number of stitches in each row, and that the correct number of rows have been worked for each swatch.
Does not assume that the first time working a swatch of a new stitch is the swatch to submit. It is able to evaluate the work and takes time to be sure that the very best work is presented. Should be able to find errors prior to finalizing a swatch.
Shows understanding of basic crochet principles in answers to questions.
Satisfactorily completes ALL written and crocheted work as presented in the program instructions.
Work is to be clean (free of stains, odors, pet hair, etc.) and presented in a professional looking manner."
March is National Crochet Month
The CGOA has sponsored March as the National Crochet Month for over 18 years with a Mega Crochet-A-Long. Non-members receive the first of four patterns, while members receive all four patterns for the month. Each week a new pattern is added for download. The crochet-a-long is open to crocheters of all skills and levels. Thanks to the CGOA March has become a time for groups and individuals to celebrate their love of crochet.
Membership is open to individuals at $35 in the US, $42 in Mexico, and $50 for other non-US areas. Some of the benefits of membership include:
Annual free subscription to Crochet! Magazine

CGOA newsletter "Chain Link"

Free patterns

Complimentary copy of the CGOA Board pattern book

Access to the CGOA blog which features book reviews and access to free patterns

CGOA annual conference benefits which include class discounts, free entry to the Marketplace, reduced or free rates to ticketed events, and member only competitions.

$15 discount on Craft Yarn Council Certified Instructor Program

Discounts on Annies Catalog online purchases, Interweave Crochet special offers, Leisure Arts and Mary Maxim discounts.

Many other discounts and offers

Professional development through classes and networking opportunities
The Craft Yarn Council of America
The Craft Yarn Council has sponsored wide range of educational and promotional programs for over 35 years. It represents accessory manufacturers, leading yarn companies, consultants, and book and magazine publishers in the yarn industry. The Council also offers a place for all yarn artists to connect and find resources for their craft. The guild works closely with the Council to provide its members with valuable and useful resources.
The Craft Yarn Council also helps develop standardized guidelines for crocheting and knitting. For example, you can find a complete list of yarn care symbols on their website as well as crochet terms, symbols, and abbreviations. I've always found their website useful and full of information.
End Notes
Personally, I have thought about joining the CGOA for the benefits and to take the Masters course. I like the focus on education and the fact is a grass roots organization. There are many people throughout the years who have volunteered their time and efforts to make the guild what it is today. It is the care and time put forth by the volunteers that make the CGOA a special organization. With over 3,000 members from all over the world the CGOA is a vibrant and active entity in the crochet world.
What do you think? Is the CGOA a valuable guild? Would you consider joining it, or are you a member? Let us know your opinion and if you have any more information please share it in the comments. Have you attended a conference and if so, what was the most memorable experience you had?
Thanks for stopping by and see you next time. Until then, keep on hooking!
If You Enjoyed this Article Please Share and Pin. It is Greatly Appreciated. 🙂 
–