Crochet Resources
In this section, you will find helpful tables for your reference. Not sure how big a baby blanket should be? What are the conversions for millimeter and US hook sizes? What do those strange-looking crochet symbols stand for? Look no further than this section of the site.
Yarn Weight Chart
Yarn weight is important because it affects the gauge of your projects. Gauge refers to how many stitches and rows are in a four by four square of crocheted fabric. Each weight also has recommended hook sizes which also affect gauge.

US Crochet Abbreviations and Terms
Designers use a standardized set of abbreviations and terms when creating patterns. The following table lists the most common US abbreviations and terms.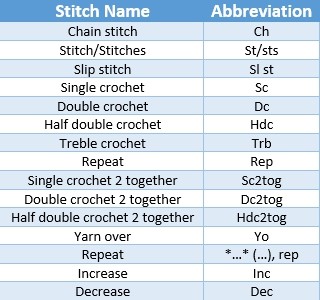 US/UK Crochet Conversion
US and UK terms and abbreviations are very different. It is important for you to know if the pattern is written in US or UK terms. The following table converts US/UK terms and abbreviations. 

US/Millimeter Hook Size Conversion
In the US crochet hooks are sized with a letter and number. Most of the rest of the world size crochet by millimeters. Use the following table to convert US to millimeter hook size.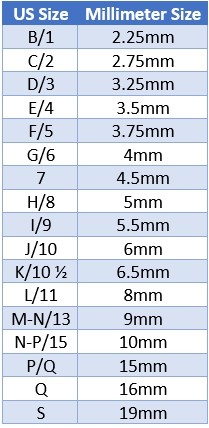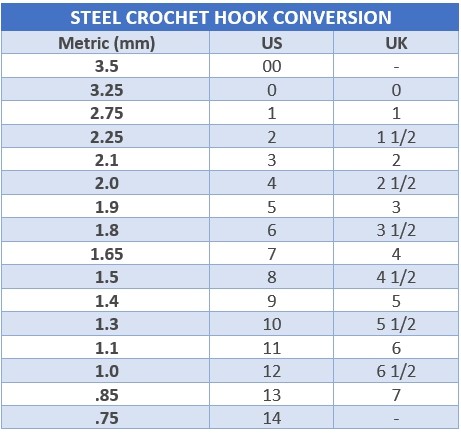 Crochet Symbols
Designers use a standardized set of crochet symbols when designing charts, graphs, and diagrams.

 Afghan and Blanket Size Chart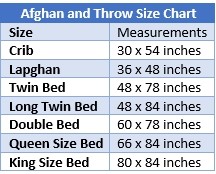 Hat Measurement Guide
Use this table to size hats. The diameter is the measurement across the starting circle. The circumference refers to the measurement around the outer brim of the hat. Use the ear to crown measurement to determine the correct length of hats.