When it comes to crocheting, I am the type who wants an entire kit. The Tulip Etimo Rose Crochet hook set is perfect for those who want to have a crochet kit that works well, and one that certainly does the job and then some. Here, I'll tell you why this kit is awesome, and some of the cool features in it.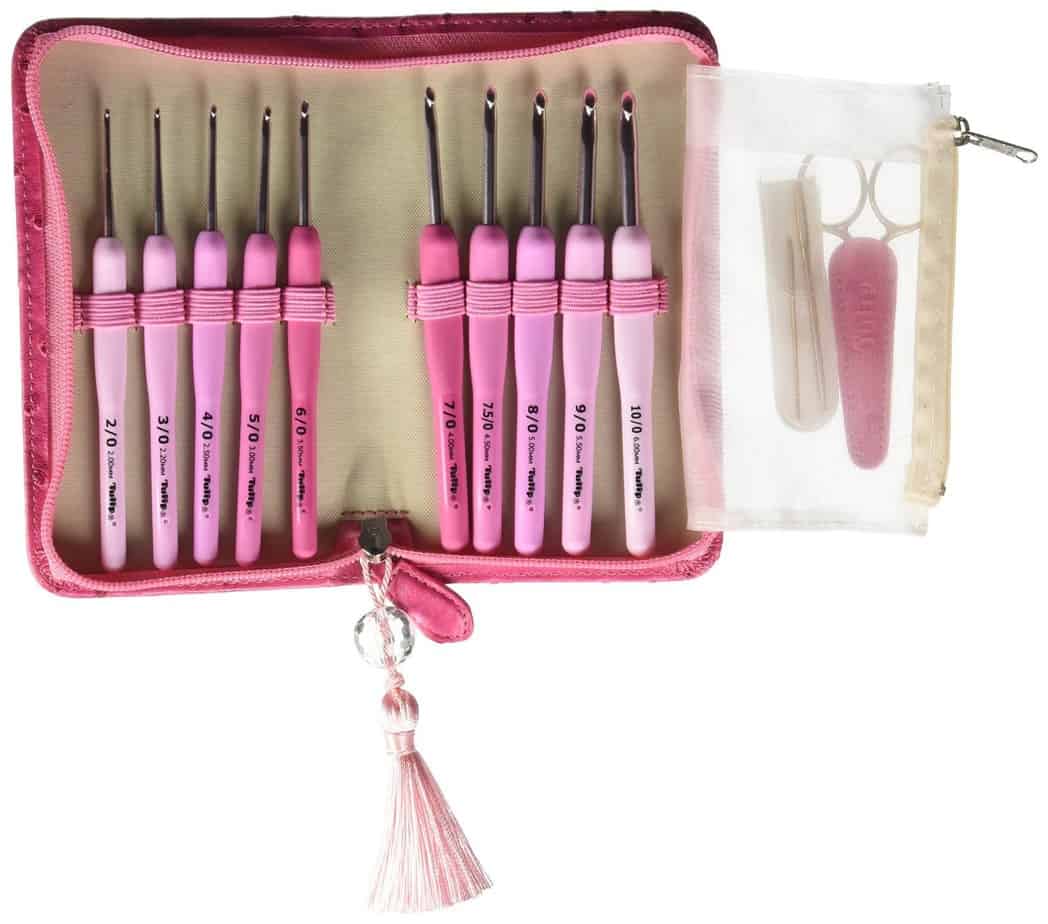 Click Here to View it on Amazon.
So Many Hooks!
There are ten different types of hooks. If you're someone who crochets a lot, you'll probably be super happy with this, because lots of hooks have a ton of benefits.
Some of the benefits of having so many hooks are the following:
• Easier to change needles
• Allows for everything to be in a convenient place
• Allows for a simple sort of means to truly make the crochet pieces you have
That's why I love these hooks. They're so easy, and the variety allows me to work with hook sizes both big and small.
You also get hook sizes in different sizes, such as the following:
• 2.0
• 2.2
• 2.5
• 3.0
• 3.5
• 4.0
• 4.5
• 5.0
• 5.5
• 6.0
And these are the common sizes that you typically use. That means, that if you want to get started with crocheting, or if you want just a handy little kit, this will do wonders. It's so nice to have everything all in one place, and it allows for ease of use that you may not be used to.
If you're experimenting with different needle sizes, this all comes in one convenient pack that allows for a super awesome experience.
Lots of Extra goodies as Well
Now, this isn't just good for those who want to have hooks, this is good for anyone looking to get started with this. It contains extra goodies as well, including the following:
• Scissors
• Yarn
• Needles
• Case
This is everything that you need to get started with crocheting. What that means for you, is that if you're ready to embark on the adventure, you can do so with this handy little kit.
Now, I will say that the scissors aren't the best. Remember, this is a beginner kit, and if you're like me, you may want to use something a little different. But, with the help of these awesome crochet needles, you'll be able to begin with some great items, and in turn, create the most beautiful pieces that you can. This is something I truly enjoy, and something that I most definitely love, and if you're wondering whether or not you will enjoy this, chances are you will, and you'll be happy with the results from this.
A Really Nice Case!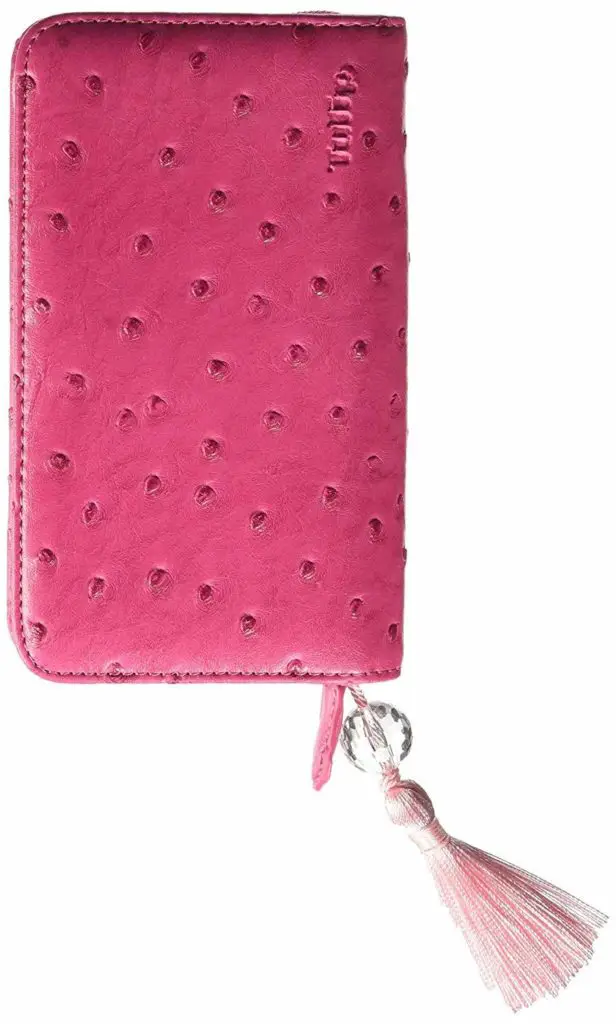 Now, let's talk about the case. This whole package comes in one unique little case, and it's such a pretty color.
I love this case, and it's because of a few things, and they are as follows:
• Keeps every needle in one place
• Allows for the transport of your kit
• You won't be losing needles with this one!
• It allows for everything to be in one place, so if you need to change needles, you can!
The case is super cute, and it is a nice pink color. Now, if you're someone who is a little hesitant because it's pink, put that caution to the side! It is a really nice color, and probably one of my favorite aspects of it is the beautiful rose color to it. It's a high-quality case too, so if you're wondering if it'll fall apart in your hands, the answer is a resounding no, it won't fall apart. It's all neatly there, and you'll be happy with the results of this. That's what I enjoy so much about this kit, and the fact that you can keep everything all in one place, and you can just pull out a needle and go from there, allows for you to have a more worthwhile and amazing experience with this, and one that you'll be able to enjoy quite easily.
It's even zippered too, which is super nice, and if you're wondering whether or not you can get it in different colors, the answer is yes, you can because they do come in pink and brown.
Super Easy to Work with
Probably one of my favorite things about this is how light they are. These lightweight needles are nice because it allows for the user to do the following:
• Navigate the needles in a simplistic manner
• Allow for needles to be changed easily
• It won't hurt your hand if you use them
• It's super user-friendly, and they fit comfortably in your hand
• It will glide with the yarn
Some have even equated this to working with a knife, which is probably one of my favorite things about it. If you've used other needles in the past, chances are you've dealt with the pain from cramping that comes with wrongfully-sized needles or needles that get heavy. It's such a pain, but with this crochet hook set, you'll be able to work with each of these needles, and it's quite nice to deal with. I love that about it because it allows me to work on projects quickly, and efficiently.
In case if you are wondering as well, and if you're a bit of a
snob about it, yes these hooks are authentic, which means that you're getting the real thing, but for the price that you're paying, it's super worth it, and it's obvious that if you do use these, you'll be happy with the results.
Super Comfy Hooks
These hooks are super comfy, and that's something that many users enjoy about it. Here are some important elements about it that you should know about:
• These hooks are made of aluminum
• They are super simple to use
• They fit perfectly in one's hand
• They are arguably the best out there since they make it almost like you're cutting a knife through butter
• It does have a thumb bump depending on how you hold it
• However, this bump does get thinner depending on where you hold it, but your hands won't hurt
Probably the one thing customers hate about some crochet needles is how much they hurt. But these bad boys fir comfortably no matter how you hold them. Usually, if I have a crochet hook, here are some ways where it just feels off, but this doesn't have that to it. In fact, it actually feels right no matter where I hold it, or how I hold it. I love that about it! I really do enjoy just how comfortably these sit on your hand, and how amazing they feel when you use them.
They're very simple to clean as well. With just a little bit of soap and water, they are good as new, and I noticed that they don't rust either, but if you do end up accidentally getting a rusted hook, then don't worry, just let them know and they'll take care of you. It's super awesome!
Reviews Worth Reading!
Lots of people love these hooks, and for a good reason. There are a few who really love them, and here are some reviews regarding their experience with these hooks.
• I am absolutely in love with this set! I bought one to try them out and I guess I raved about it so much he came here and got me the whole set!!! The hooks are beautiful and wonderful. They slide through yarn like butter. And, the set comes in a beautiful case with yarn needles which happen to be REALLY NICE, and the best little scissors ever! I've even bought a couple of extra hooks since I like to have more than one in certain sizes. Yes, I have other brands, but I really hate to go back to them now that I'm hooked on these!
• This crochet hook set is mind-blowing. YES, expensive compared to other sets, but worth it. It helped me with my tension, my stitches are a lot more consistent, and I have doubled the amount of time I can crochet just by using this set. The scissors are sharp and crochet needles work seamlessly. I absolutely adore the rose tint to the crochet hook and accessories. My crochet hobby turned into a full-blown addiction after buying this set. I love love love and recommend.
• I love these crochet hooks. I recommend them to everyone. I don't have any hand pain with these. I'm a knife holder and they are very comfortable in my hand. The color is beautiful on the hooks as well. Love the case, it's very handy. I don't split yarn with these either. Worth every penny!
• I am a beginner and I just finished with the Granny Square afghan. It was easy for one of my family to know what to get me for Christmas. Got a beautiful set of Tulip Rose crochet hooks. So easy to crochet anything with that kind of hooks and so easy to hold it. It doesn't make me tired like my first hook. I LOVE IT. Now I am learning how to crochet a poncho with help of my friend.
To Read the Reviews on Amazon Click Here
As you can see here, these hooks are the best. They are simple, effective, and overall really help make your crochet abilities even better. I noticed just from using these, I was able to see a difference in my work, and in turn, I mastered the art of crochet with this.
Good for Beginners and Veterans!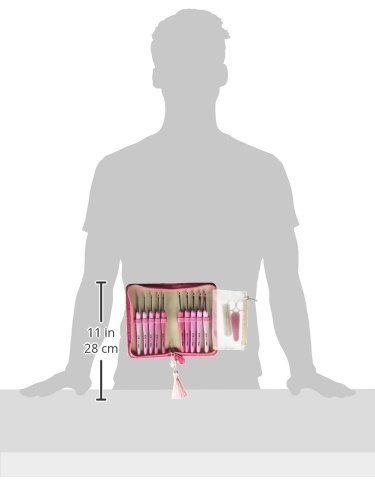 Now, you'll probably look at the price and wonder "is this for me?" The answer is yes. While you may be a beginner at crocheting, by having a kit that works with your hand, and one that's simple to employ, it allows for better projects, and ones you can be proud of.
The benefit fro this kit for those who are starting out is the following:
• All of the beginning needles you need are there.
• You can always get bigger or smaller needle hooks if you want to include more
• It's all in a handy case that's easy to see
• It comes with some great basic materials that will ultimately help you
• It can make your life easier if you're working to get serious about crocheting
This is the ultimate kit for veterans as well, for almost the same reasons. If you're into crochet period, this is the kit that you need, because it's all right there, and the hooks are super easy to use, don't feel like a burden on the hands, and can really get the job done.
I remember when I first got these. I was a bit hesitant, cause again, it's pricey. But, I was quite impressed by the results, and from this, I was able to crochet some presents for friends and family and make items for myself that I adored. I was impressed, that's for sure, and from this, I learned how to create some amazing items. You can join in on the crochet fun too, and this kit is honestly the perfect way to begin. You won't want to go with another kit, because let's face it, it's all right here.
Recommended Reading. Free on Kindle with Kindle Unlimited.
The Almanac of Crocheting is the complete comprehensive A to Z guide on crochet available on Kindle and Free if you have Kindle Unlimited. It will take you from a Beginners level all the way up to advance. And countless projects for the novice to all the way up to Expert. This Box set takes you from step one novice all the way to expert with detailed instructions and pictures. Click Here to take a look at it on Amazon.
Start Crocheting with Amazing Needles Today!
If you're ready to crochet with the best needles you can get, with needles that get the job done and then some, then you've come to the right item. These needles are perfect if you're looking to begin crocheting today, and if you're a veteran that wants a new set of crochet needles.
You can pick up these needles by following the link here.
These needles are great for those, regardless of if they're beginners and veterans, and you'll realize that, once you do begin to use them, you won't want to stop, for they are perfect needles for any crochet project.